April 13, 2019
Security Tokens or STO: Evolution in Capital Markets – Thought Leaders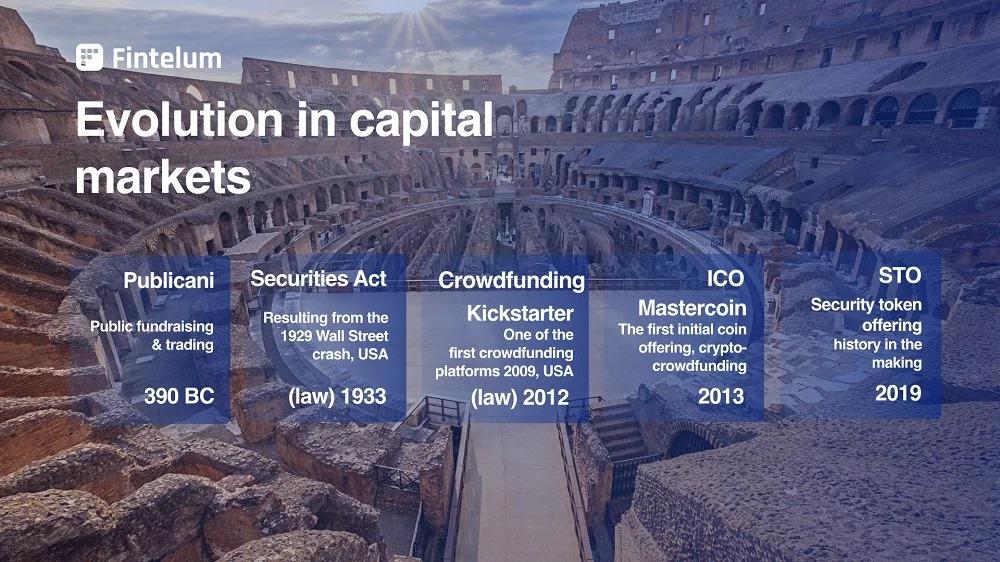 This is part 4 of a 5 part series.Click here for part 1, Click Here for Part 2, or Click Here for Part 3
From the traditional private equity or debt to less conventional crowdfunding. The most recent tokenisation method is the next step in the evolution of the capital markets.
Often ICO token issuers made public promises regarding future increase of value of their token. Such claims are deemed to be promoting securities, according to regulators. There were additionally cases where ICOs blatantly disregarded their roadmap commitments. Around the same time as some bad ICO apples were falling, and regulatory scrutiny was increasing, STO or security token offering ideas became vocal, as the natural continuation of the ICO industry.
Indeed, STOs make more legal sense, but much less retail buzz. The times of raising hundreds of millions for a white paper idea are definitely gone. But it is the contention of the author of the present article – that does not mean all ICOs are dead. There still can be cases of utility represented by a smart contract token.
However, if there is no utility or service on offer, then it is likely a future profit distribution, or outright corporate rights exercise. In other words – a security.
A security is a legally defined financial asset that can be traded or exchanged. A legal definition however varies by jurisdiction. The main categories are equity or debt, or derivatives thereof. Securities are offered by an issuer. The primary offering of a security today can be done either through crowdfunding, private placement, or full- fledged public prospectus offering. Depending on the amount and jurisdiction, either option would constitute an issuance of a security.
A tokenised security offers a combination of advantages of both the ICO practice as well as the existing securities laws. On the one hand, an STO complies with the law to the letter. And on the other hand, an STO offers a similar promise of an immediate (or delayed in case of legally required lockup periods) liquidity.
There are no "securities token exchanges" to date (April 2019). But there are quite a few initiatives looking to obtain regulatory authorisation to run a securities exchange for the modified securities asset class – security tokens. Potential way of exchanging security tokens would be OTC desks provided by ownership transfer agents such as Fintelum. See more below.
The main difference that sets security tokens apart from non-token securities is the actual blockchain aspect. Now in stead, or rather in addition to regulatory requirements, such as registration of certificates, shares, bonds and debentures – a smart contract is issued representing the registered rights and obligations of the issued security, whereas bearer securities could be most effectively tokenised.
Investors or participants of an STO are typically cryptocurrency users, but not necessarily. STO practice will continue the path carved by the ICO industry in setting the use cases for cryptocurrency at large. The STO offer is not so democratic than ICO used to be. Security token offering is much less frictionless than it used to be with utility tokens.
Today, the potential buyer of an STO will need to overcome burdensome KYC/AML profiling process to be compliant with the sales of a security. And often try providing the impossible – the accredited, sophisticated or professional investor status. And depending on the jurisdiction and the project offering, the pain levels may vary. This is why, an STO issuer should have an attractive proposition on the table to be able to attract investors.
Security token or tokenised securities?
As a note of importance, not to confuse the two concepts, well posted out by Noelle Acheson in her piece. Security tokens are the subject of our present article. Whereas tokenised securities are a token representation of an already existing security. For example, an Apple stock may be tokenised and traded on a separate exchange than the original stock is traded (eg.: APPL ticker, traded on the New York Stock Exchange). Although it is questionable, but there seem to be attempts at listing tokens that allegedly represent an Apple stock.
Source: https://www.securities.io/security-tokens-or-sto-evolution-in-capital-markets-thought-leaders/